Fusion Milk Paint Gotham Grey
Fusion Milk Paint Gotham Grey
Choose this grey, an ode to Manhattan and all of its urban design appeal. Gotham Grey is a modern neutral created to add an element of sophistication to any space.
Fusion Milk Paint Gotham Grey
Choose this grey, an ode to Manhattan and all of its urban design appeal. It's a modern neutral created to add an element of sophistication to any space.
So what actually is Milk Paint and how does it differ from other paints on the market?
It produces a look and feel like no other paint, from a smooth and refined finish, to a rustic chippy distressed look.
Only real Milk Paint comes in powder giving you this unique look. Watch out for the pre-mixed copy cats on the market that do not yield these same results such as the chippy look.
It comes in powder – just mix it with water. Unused powder can be stored indefinitely.
It's your turn to get creative and achieve any look from a stain to a textured finish with one product, you're in control simply by how much water you add.
No brush strokes. Really, none! It mixes to a thin paint, so it self levels flawlessly.
To bring our the true intensity of the color and protect the paint from water marking, add a top coat of your choice. We suggest Wax or Hemp Oil for most projects.  Stain & Finishing Oil is great for kitchen tables or cabinets for a more resistant finish.
It will never chip or peel when applied to a porous surface such as bare wood or plaster.
Get the unique chippy look only doable with Milk Paint. This will only happen when painting onto a surface with a previous glossy coating or wax. Want to make it chip? Learn how in this video here:
Can we applied to laminate plastic, metal or glass by adding the Bonding Agent.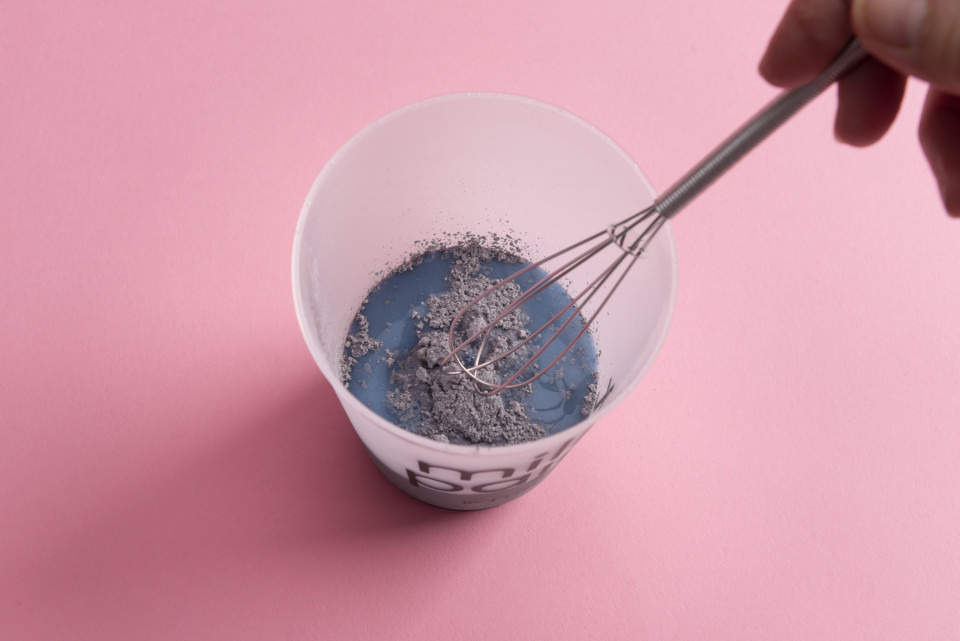 Milk Paint by Fusion, Made Modern
Milk Paint is a little untraditional in the sense that, It comes in powder and you need to add water to "make" the paint!
New to Milk Paint? Don't worry! Milk Paint is easy as 1, 2, 3! Mix It, Paint It, Finish it!
The first step in using Milk Paint is to mix your paint!
Mixing Milk Paint by Fusion is easier than making a protein shake!  Just Add Water to your Milk Paint powder! Choose your favourite colour and let's get mixing!
Combine 1 part water to 1 part powder and stir for 1 minute using a whisk. Watch as the Milk Paint powder easily dissolves into the water.
Fusion Mineral Paint is your go to DIY Furniture and Decor Paint All in One.
FUSION™ MINERAL PAINT IS A PROFESSIONAL PAINT FOR THE EVERYDAY DIY'ER. Use it on furniture, walls, floors, doors – every surface from wood, glass, metal, laminate, to plastic, leather (yes!), stone, and tiles. It's really that versatile!
Easy to use, high coverage, and with a built-in top coat. Over 60 colours to choose from – there's something for everyone!
Go from inspired to admired in a few hours. Add colour, reinvent and enjoy your time to create. Live with things you love and DIY the rest. Pick your project, bring home a pot of mineral inspiration, and Paint it Beautiful!
Fusion Mineral Paint ™ is a 100% acrylic paint with a matte gloss.
37 ml tester (good for 1 small plant pot, small tray) 1 m2
500 ml pot (good for 1 large cupboard) 7 m2
* Fusion gives a sleek finish and is very suitable for, among other things kitchens and doors.
Read the blog about Fusion Mineral Paint™ For more information.