Homestead House Milk Paint Potpourri
Homestead House Milk Paint Potpourri
A soft grey green similar to the leaves of dried herbs.
_____________
Coverage
50g Tester (a side table, several mirror frames or small chair)
330g (a dresser and a side table)
_____________
Homestead House milk paints are biodegradable and Zero VOC!
What's the difference between Fusion Mineral Paint and Fusion Milk Paint? 
Milk Paint VS Mineral Paint
Milk Paint by Homestead House has 28 unique colours. The look of Milk Paint will give your piece a special touch. Easy to mix and brushes on very nicely.
How to use: Add one part water to one part powder – it's that easy! Just mix and go.
Zero VOC – no low VOC, zero VOC. The formulation is (child) safe.
Beginner or pro – whether you're painting for the first time or a seasoned professional, it's easy for everyone to get a unique look using Milk Paint by Homestead House.
30 minutes to cure – it is the fastest drying paint on the market. This Milk Paint cures super fast.
Environmentally friendly – Milk Paint lasts forever, just mix the amount you want to use and save the rest for your next project.
Getting started with Milk Paint?
1. Prepare
Clean and degrease the surface.
2. Mix
Combine 1 part water with 1 part powder and stir for 1 minute.
3. Paint!
Using a brush, apply Milk Paint to the surface. Each coat is dry within 15-30 minutes (yes, fast!) and can be reapplied immediately after drying.
4. Finish.
Apply a top coat to seal your Milk Paint and bring out the true depth of the color! This will also protect the paint with a finish that will last for generations. Hemp Oil and Furniture Wax from Fusion Mineral Paint are great, easy-to-use options
Homestead House Milk Paint Potpourri
A soft grey green similar to the leaves of dried herbs.
_____________
Homestead House is the original range of Milk Paint – also made by the company that makes Fusion Mineral Paint. T
The colours are historical traditional and soft – a blend of amazing hues to complement any room. You can slowly work hour way through the whole collection!
There are two colour collections – the Classic Collection and the NEW Swedish Collection. My favourites are Hampton, Bouquet and Dusty Rose – yes, I love the pinks!! But I want to try them all!  The new Kurbits Indigo from the Swedish Collection, Dala Red and Swedish Yellow are also exquisite colours to add that wow to any piece.
Use your Homestead House Milk Paint Colour Card to help you when choosing your shade, and for comparing and finding matches to existing projects or furniture, etc.
This is the perfect companion for the Fusion furniture restyler!
So what actually is Milk Paint and how does it differ from other paints on the market?
It produces a look and feel like no other paint, from a smooth and refined finish, to a rustic chippy distressed look.
Only real Milk Paint comes in powder giving you this unique look. Watch out for the pre-mixed copy cats on the market that do not yield these same results such as the chippy look.
It comes in powder – just mix it with water. Unused powder can be stored indefinitely.
It's your turn to get creative and achieve any look from a stain to a textured finish with one product, you're in control simply by how much water you add.
No brush strokes. Really, none! It mixes to a thin paint, so it self levels flawlessly.
To bring our the true intensity of the color and protect the paint from water marking, add a top coat of your choice. We suggest Wax or Hemp Oil for most projects.  Stain & Finishing Oil is great for kitchen tables or cabinets for a more resistant finish.
It will never chip or peel when applied to a porous surface such as bare wood or plaster.
Get the unique chippy look only doable with Milk Paint. This will only happen when painting onto a surface with a previous glossy coating or wax. Want to make it chip? Learn how in this video here:
Can we applied to laminate plastic, metal or glass by adding the Bonding Agent.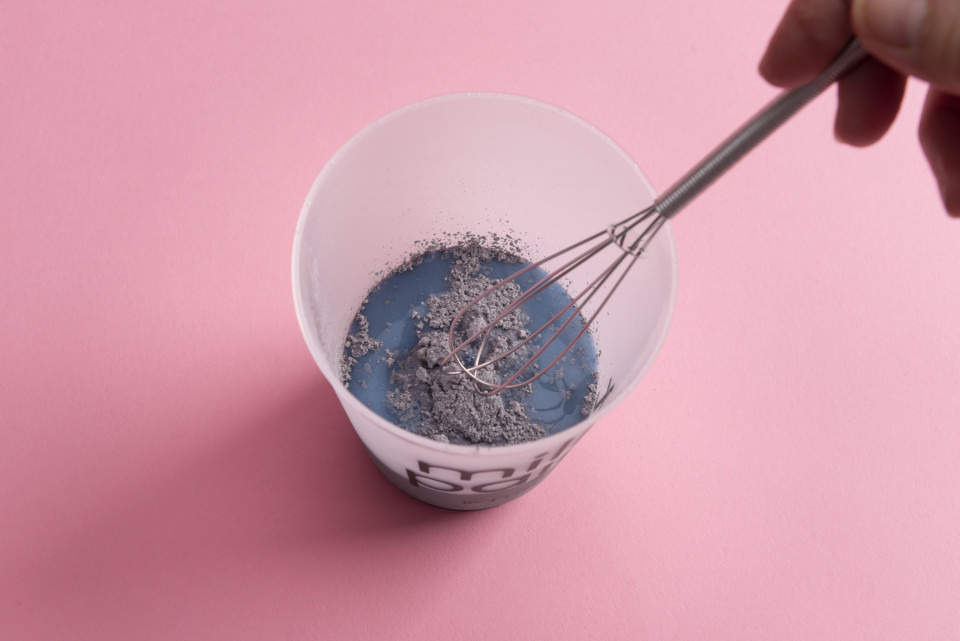 Milk Paint by Fusion, Made Modern
Milk Paint is a little untraditional in the sense that, It comes in powder and you need to add water to "make" the paint!
New to Milk Paint? Don't worry! Milk Paint is easy as 1, 2, 3! Mix It, Paint It, Finish it!
The first step in using Milk Paint is to mix your paint!
Mixing Milk Paint by Fusion is easier than making a protein shake!  Just Add Water to your Milk Paint powder! Choose your favourite colour and let's get mixing!
Combine 1 part water to 1 part powder and stir for 1 minute using a whisk. Watch as the Milk Paint powder easily dissolves into the water.